In this day and age, securing our homes and businesses, as well as our families, is a must. Now that burglar alarms are almost a common fixture in a household, we need to ensure we get the security we want. In this article, we are going to give you a better understanding of how these systems work and the different types to help you maximise their benefits. 
What is a burglar alarm system?
A burglar alarm is a system with electronic devices linked to a control panel that makes an alarm when they are triggered. These systems are installed in close proximity to doors, windows, safe, or other storage areas where valuables are kept. 
They are primarily used to detect forcible or unauthorised entry into a property. Therefore, burglar alarm systems can significantly benefit residential homes, industrial establishments, public facilities, storage areas, and other business establishments.
How does it work?
In order to work correctly, burglar alarm systems must be placed in a strategic location. That said, let's take a closer look at how the system actually works.
First step: Detecting Motion
The motion detector will sense when there is a significant change in the amount of heat energy in a space or place that is supposed to be empty. It will then notify the control panel if someone approaches and attempts to force their way through an area where the alarm has been set up, such as near a door, window, or safe.
Second Step: Alerting the Control Panel
The control panel is considered the brain of the system, as it analyses the information it receives and then sends out signals in response. When it receives data from the motion detector, it interprets the data before transmitting it to trigger an alarm.
Third Step: Sounding the Alarm
Here, electrical energy is converted to mechanical or sound energy. The control panel will then send signals depending on the type of alarm you have from the information it receives. The alarm can produce a loud sound like a siren that creates a noise to alert anyone nearby. It may also make a flashing outdoor light to let neighbours know something is wrong. In some cases, the alarm will activate a telephone auto-dialer to notify the police of a break-in in progress. All these alarms can also drive intruders before they can have a chance to commit a crime.
Final Step: Activating or Deactivating the Alarm
The control panel is in charge of activating and deactivating the burglar alarm system. When an alarm is triggered, the system should be deactivated to stop the loud noises or flashing lights. Otherwise, if the system's deactivating mechanism is not activated, the alarms will continue to make sounds. 
The three main types of burglar alarm systems 
Now that we have an idea of how burglar alarm systems work, let's look at some of the common systems you can install in your home.
#1 Wired Alarm System 
These are the configurations in which a central control panel serves as the central hub. Installing these types is best left to the professionals. Once it's up and running, the need for maintenance is minimal. Aside from these advantages, it's dependable and useful.
#2 Wireless Alarm System 
This battery-operated alarm system functions identically to a wired alarm system. While installing a battery-powered alarm system is significantly easier than installing a wired alarm system, batteries must be regularly tested to ensure its working correctly.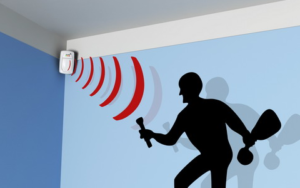 #3 Hybrid Alarm System 
There are wired and wireless components to this type of burglar alarm. The wired and wireless sensors in your system are both supported by this type. In addition to its adaptability, it offers its reliability to the user.
Furthermore, burglar alarms may be monitored or unmonitored. In simpler terms, monitored is having a person look out for you every hour of the day. With the presence of the designated person, you and the authorities will be notified immediately in case of unauthorised entry. On the other hand, unmonitored burglar alarms mean that you or your neighbours will have to initiate a call to the police in case of a break-in at your home.
Fortunately, with technological advancement, burglar alarms can also be remotely monitored with your tablet or through your mobile phone. If your system is activated while you're away, your devices will get a notification. In which case, even when you are away from home, you will still be alerted when a problem arises.
Maintaining burglar alarm system 
Burglar alarms do have a place in modern homes. Lawbreakers have been brought to justice, and crimes have been avoided. Avoiding criminal activities like trespassing, theft, vandalism, and break-ins is possible with a burglar alarm system.
To ensure that your burglar alarm systems are working properly, you should have them checked out by a professional. An annual inspection by a qualified technician can ensure that all the parts of your alarm system are working. Checking for system status updates on a regular basis, avoiding dust and debris on sensors, and testing sensors and cameras to make sure they're working are all recommended. Moreover, regular maintenance of your burglar alarm system will save you money in the long run by avoiding costly repairs and the need for a new set of alarms. As a final precaution, you must ensure that your alarm does not go off when you least expect it to.
Overall, the basic structure of burglar alarms has not changed over time, but new features are being added to meet the ever-changing demands of the public. A suitable system design for your home may be found if you are patient enough. A security system in your area can help you find the best alarm devices and how to install them properly.